Once the world's number two copper mine
Fowey Consols is made up of five mines close to Tywardreath which from 1822 were owned by Joseph Treffry and provided jobs for 1,680 people  making him the biggest employer in the area.
Three of the five, Wheal Treasure, Wheal Fortune and Wheal Chance, opened in 1813, but closed after six years. An 1820 advertisement relating to the sale of Wheal Fortune is shown below. Joseph operated them as a single business and in 1836 expanded by adding Lanescot.
Against the advice of Isambard Kingdom Brunel, Joseph built the port at Par along with the Luxulyan Viaduct after which he was known locally as The King of Mid Cornwall.
His mother was a Treffry, but married an Austin. Joseph was allowed, however, to use the Treffry name which enhanced his local reputation.
Worked by six steam engines and 17 waterwheels, the mines that made up Fowey Consols were linked to the port at Par by canal boats and the ore was hauled there by up to 100 mules and 30 horses.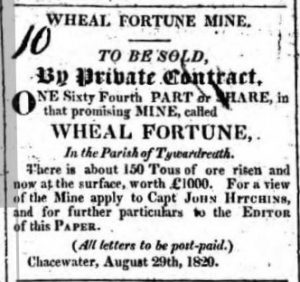 At its peak Fowey Consols was the second biggest copper mine in the world. It closed in 1867.
Two years earlier the Prince and Princess of Wales, the future Edward Vll and Queen Alexandra, visited the mine after sailing to Fowey aboard the Royal Yacht Osborne.
This wasn't the first Royal visit, Queen Victoria and Prince Albert came in 1846.
By 1865, however, the days of the mine were number numbered partly because of the financial panic that followed collapse of the London bank Overund which led to high interest rates.
To learn more see Jim Lewis' book 'A Richly Yielding Piece of Ground' (Cornish Hillside Publications, 1997).
After 40 years of mining the quality of the ore that remained was poor and on July 15 the mine materials and equipment were auctioned and bought by William West who owned a foundry in St Blazey.
Until recently this was the Travis Perkins premises in Station Road.
A word about beer which the miners like – they still do!
Those who worked Fowey Consols  had a taste for draft Bass which is why it is still kept in the local pub, the New Inn.
Some of the ale was paid for with special tokens dropped into a special slot in the bar which is still there.